Analysis of Latest Google Bomb
Rick Santorum finished in the Iowa Caucus a close second behind Mitt Romney with 24.5% of the votes. This was a hard fought victory for Santorum who spent a considerable amount of time in Iowa campaigning. However, Santorum has been battling more than just other the other candidates since 2003. Dan Savage, an editor and commentator who was angered over Santorum's anti-gay statements, created a website called "spreadingsantorum.com" which defines the word Santorum as "the frothy mix of lube and fecal matter that is sometimes the byproduct of anal sex." Even today, six years after the site was created, entering the word "santorum" into a Google search, results in the top ranked site being Savage's web page, the equivalent of what is known as a Google bomb.
What is a Google Bomb?
A Google bomb uses internet links that associate the name of a victim with a false, usually unfavorable site related to the victim. Also known as googlewashing or spamdexing, a Google bomb uses certain keywords or phrases to artificially place a website higher in Google rankings when someone types those words or phrases into the search engine. Although Google announced in 2007 that they had made changes to their search algorithm in an effort to remove Googlebombs, the Santorum bomb remains.
Effect on Santorum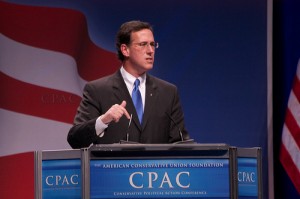 Santorum spoke out publicly against the Google bomb as far back as September 2008, yet the negative site remains at the top of Google's page rankings, even above the candidate's own page and above a Wikipedia article explaining who Rick Santorum is. The same occurs when the candidate's name is entered into other search engines, such as Bing. Google claims that the ranking is not due to promotion from Savage, nor is it politically motivated on Google's part, but is simply prominent due to public interest. In other words, Google claims that because people continue to visit the site, it continues to rank highly in their search algorithm. However, it appears that the Google bomb may have faded into the background in light of Santorum's very close second place win in Iowa, losing by just a few percentage points to Mitt Romney. It appears that, even though Santorum was the 10th most searched term during the Iowa caucus (Source: http://www.deathandtaxesmag.com/172069/howis-rick-santorums-google-bomb-holding-up-now-that-hes-surging-in-the-polls/), American's are perceptive enough to realize that the Stewart site is a personal commentary and that the definition of "santorum" was based on a personal view and not what the word truly means.
Famous Google Bombs
Santorum is not the only public figure to be the victim of a Google bomb. Craig James, a former ESPN analyst and current political candidate was recently a victim when a search on his names brought up sites claiming that Craig James "killed five hookers at SMU." The accusation is false but James' political opponents created a site to disparage the candidate and that site slipped through the Google algorithms designed to block Google bombs. President George W. Bush was also a victim of Google bombing when a search for "miserable failure" brought up his website, even though the site never mentioned the words.
Has Google Resolved the Problem?
When Google bombs were first reported, Google repeatedly stated that such practices did not exist until, in 2007, they announced changes that were designed to stop the practice. Google is the most popular search engine, and its success has brought it's search algorithms under scrutiny in recent months. Google uses different criteria to determine which websites offer authoritative information and many SEO companies have learned ways to increase a sites ranking falsely. Google bombing is successful because the practice manipulates Google's search algorithms to push the negative sites to the top of the search engine rankings. Although Google is attempting to address the problem, the fact is that Google bombing still occurs, and some web surfers may begin to question the validity of Google's search results and ultimately switch to a different search method.
Despite Google's announcement that they had resolved Google bombing attempts, the fact is that searching Rick Santorum's last name still results in Savage's site ranking at the top of the search results. This indicates that Google has not completely eliminated the possibility that Google bombs could occur in the future and that their algorithms still need tweaking to prevent such practices in the future.